Who is Noozi?

Noozi develops medical books for children from around 4 years old who need to go to the hospital for examinations, surgeries and treatments. The books are made to prepare children as well as possible. Also on the possible impact a disease can have on their lives.

In the books a certain disease or condition is explained as clearly as possible, in a language that also very young children can understand.

The books are based upon accurate medical and scientific information.

No matter how difficult it sometimes can be, Noozi wants to emphasize on the positive, strengthen the bond between doctors and patients, and remove the fear of the unknown in children and parents.

Educational materials help to understand and deal with a disease better. Because there is little accurate medical information for children, Noozi wants to make a difference.
Why we called it 'Noozi'?

'Noozi' is a compilation of the words 'nosy' & 'cosy'.
It's nice to read a book together while learning new things.



Not only for children but also for parents

Also parents can have a lot of questions. Noozi tries to explain what is happening inside your child's body, as clear as possible.

Children's books with medical information
Available in Dutch from 300 pieces or more ... English versions on request.
Children's books from Noozi are cheerfully written, carefully illustrated and in handy format 19 x 19 x 0.4 cm. Printed in full color on high-quality paper with a 'paperback' cover in sulfate cardboard + soft-touch laminate. Available in the languages Dutch, French or English.

Minimum print run is 300 copies.
Prices depend on the circulation and the number of languages. Feel free to send an email for information or a noncommital proposal.
A few titles can be purchased individually.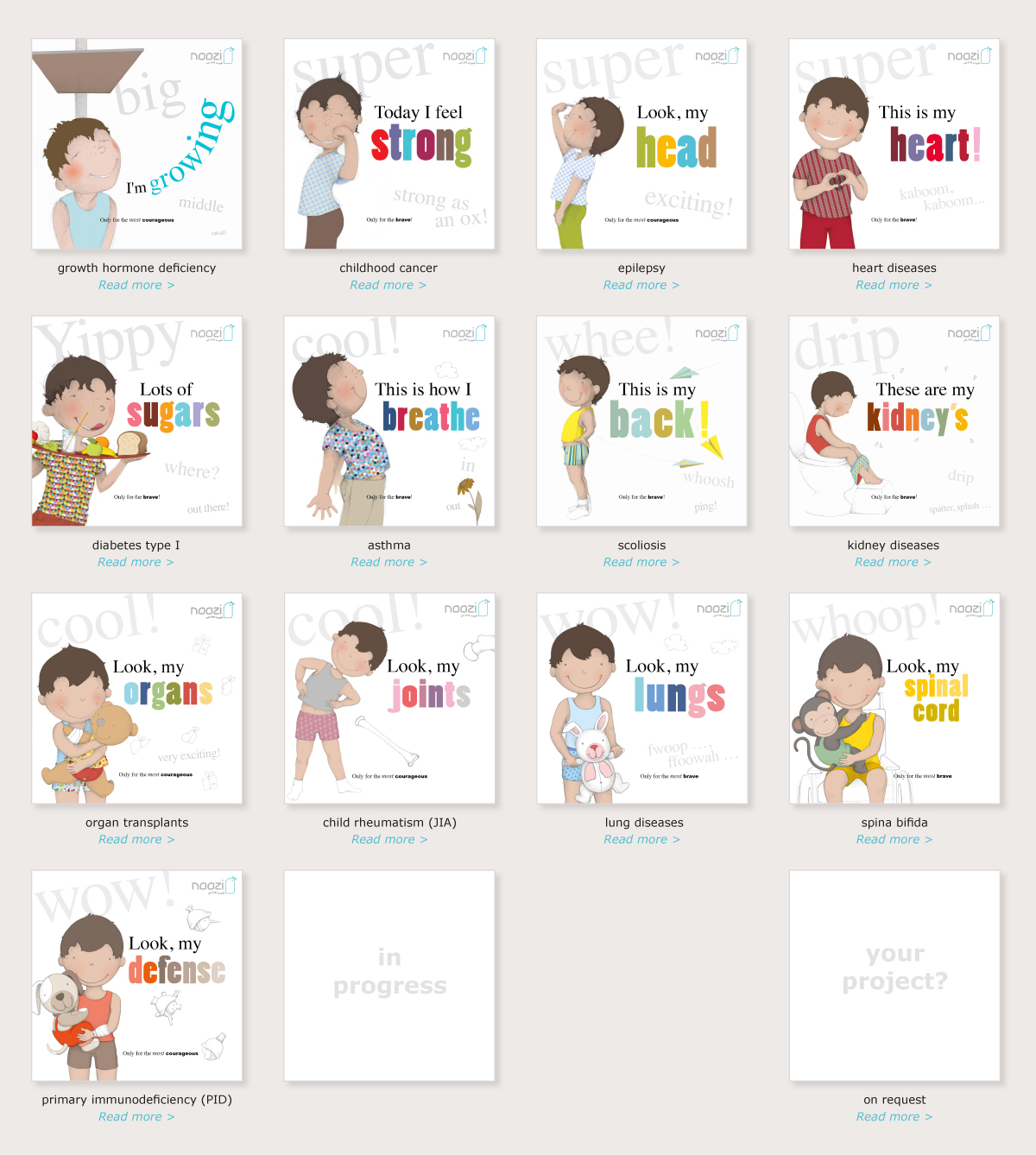 The Noozi children's books are:

positif en optimistic
illustrated with care
written in a language children understand
accurate because the content is checked by doctors and specialists and adjusted accordingly
supportive because some diseases have a big impact on children's lives and Noozi wants to prepare them for this
these books are also for parents and can help to talk about a disease
the books can also be exchanged within the family, with friends or in school to create a better understanding.
How does Noozi work?

Noozi collects information (input from hospitals or customers, internet, library, bookstore, personal experience ...)
writes a positive story, rewrites and corrects,
makes a first rough,
draws, redraws, takes care of lay-out and digital coloring
has texts and content checked by doctors and specialists,
processes their feedback in consultation,
takes care of translations if necessary,
contacts companies or non-profit organizations to purchase books so they can distribute them among doctors at different hospitals,
adjust texts or drawings at the request of the customer, if necessary,
coordinates the printing and ensures the delivery (one address).
Warm feedback from doctors, non-profit organizations, parents ...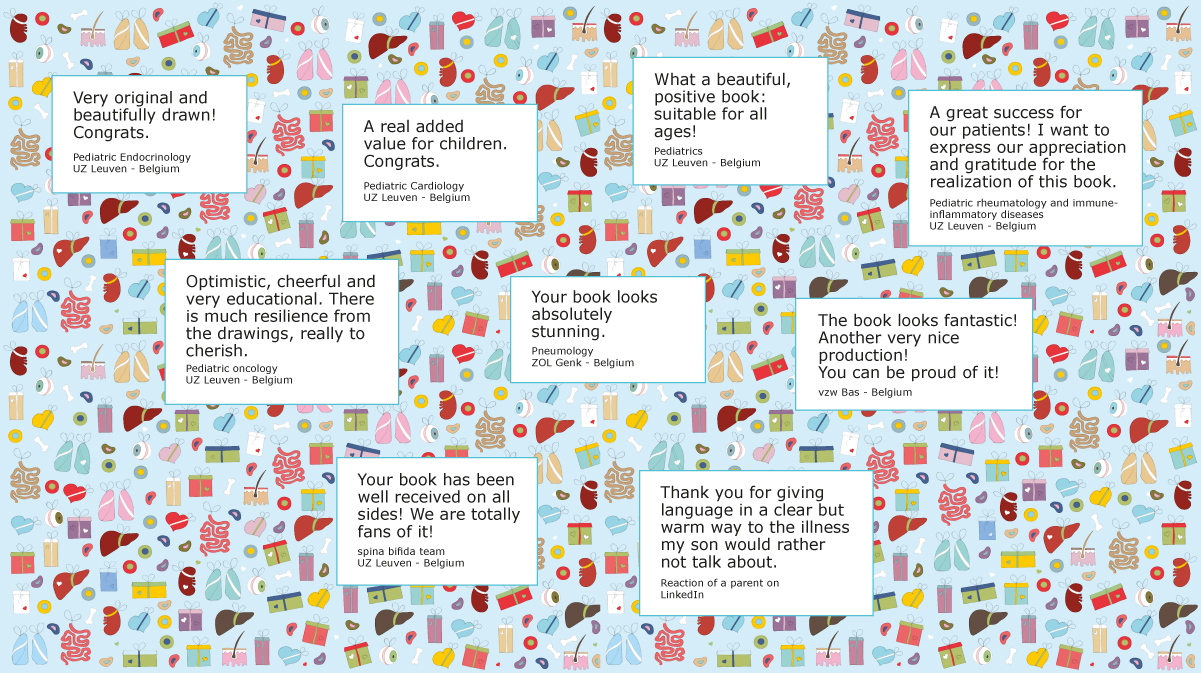 Together with companies and non-profit organizations ...
For hospitals, paediatricians, patients ...
Companies or non-profit organizations that develop and offer products, technology or services to hospitals to support healthcare professionals and patients can purchase and distribute Noozi children's books.
Pharmaceutical companies
Medical technology companies
Healthcare-related IT companies
Patient organizations
Healthcare providers
Non-profit organizations
...
What's in it for you?
you answer to a real need
you tell a hopeful and positive story to children who have to deal with a serious illness
you put the patient first
you make a substantial difference
you contribute to a better quality of life for the patient
you maintain good relationships with healthcare professionals
you help doctors and healthcare professionals to explain complicated issues in an accessible way
you focus on corporate social responsibility (CSR)
you receive happy and grateful feedback …
As a service for healthcare professionals
with clear visual support...

As a healthcare provider you always hope for the best possible care process, but in some cases this is a long-term process in which complianceand follow-up are very important. In these cases Noozi wants to play a supporting role and contribute to a positive bond between all involved, with the well-being of children as a priority.

| | |
| --- | --- |
| Noozi wants to offer doctors and healthcare professionals the opportunity to properly inform patients and parents at the time of a diagnosis. It will give them courage and confidence for upcoming tests, treatments and / or surgeries. | |



Also for parents
Huh? What exactly is wrong with my child?

Maybe you have been worried for quite some time and you finally called for that doctor's appointment, or were you referred by your family doctor, or maybe something happened at school or at the gym. Or maybe your darling complained about pain or isn't feeling so well ...

There you are, from one examination room to another: a blood sample must be taken, an ultrasound, a scan, an X-ray, ... nervously waiting for the results. Until you are called to hear that your child is seriously ill. You are upset, sad, you don't understand everything the doctor says. Various medical terms are cited, but you have no medical background. What exactly is wrong with my child?

If your child has a serious diagnosis, as a parent you would like to know more, don't you?

Everything you need to know first can be found in the Noozi books. And later, when you and your child are back in the room or at home, you have enough time to read about it more calmly ...

We hope you enjoy reading it, but we hope that you will get well soon! Good luck!

Grown from personal experience
Our story...

Robbie had many health problems in his early years. He was born with a serious heart defect and needed several operations. At the age of 6 he was diagnosed with brain cancer. We were devastated. As a mother I had to deal a lot. How could I explain this to my child? What could I say without frightening him? What did I actually know about the disease and was all the information I was told where? Was it curable? How long would the treatment take? What are the consequences? How could I involve him as much as possible in the decisions that had to be made? Many questions, but luckily there were the doctors, the nurses and 'Chemo-Kasper'.

'Look, I made you a drawing. Imagine if your body is a small house. There is skin around you - just like the walls of a house. There are rooms and corridors behind your skin - just like in a house. The walls of a house are made of stones and your skin is made of cells. Everything in your body consists of cells ... "from Chemo-Kasper and his hunt for the bad cancer cells.

In the year Robbie received his cancer treatment, in 2006, sleeping but also reading were his favorite pastimes. Robbie fell under the spell of the cellular story of Chemo-Kasper, a beautifully written booklet with funny, expressive drawings. This story was about him, about his life and what he was experiencing at the time. We have read Chemo-Kasper infinitely many times.

Fortunately horses got better with Robbie and after more than a year he was able to go to school again. Chemo-Kasper went along :-)

I also got better and could concentrate again on my work as a graphic designer. There was also time for fun things again. Through my partner who works at a pharmaceutical company, I sometimes heard about projects that were developed to better support patients. Because developing children's books had always been my dream, I started to think about this more often. I considered creating medically inspired children's books. I wanted to write and draw about cells and molecules, about hormones and enzymes, about transmitters and receptors, for the little ones. Like in Chemo-Kasper. I wanted to translate difficult medical topics into children's language, but with a lot of optimism and cheerfulness. For the realization I would look for partners who want to invest in patient support and who can distribute the booklets to doctors and different hospitals. With the proceeds I would develop new booklets. This is how Noozi came into being in 2011.
Robbie spent a lot of time in the hospital.
But we also have good memories
and we were looked after fantastically.

Robbie is doing very well today.
Despite his limitations, he enjoys life a lot again.
And he likes to read.

Robbie is a go-getter, a fighter and our sweetheart!
Today you can find me among the starters of Corda Incubator. Corda Incubator is an open workplace where I was warmly welcomed and where it is very pleasant to work. I can only confirm that they call themselves the beating heart on the Corda Campus. Since September 2017 I have been renting a flex desk at this inspiring location. So I no longer write and draw from home, but among all enthusiasts who build a better future. Supermotivating!
'Look, my defense'
For children with PID (primary immune deficiency)



Your body is attacked day and night by minor illnesses. They invade our body and try to survive. But most don't stand a chance because we have a well-functioning immune system. Except if you have an immune disease (or PID). Then you get sick faster and more often.

Do you want to know more about your body and how your defense works? Then this book is definitely for you.

Available from 300 copies.

© 2019

48 pagina's.

- CGD (chronic granulomatous disease)
- VID (Common Variable Immunode Deficiency Disorder)
- SID (severe immunodeficiency disorder)
- SCID (severe combined immunodeficiency): X-Linked SCID, ADA deficiency, artemis deficiency, familial Mediterranean fever, JAK3 deficiency, MHC class II deficiency, Omenn syndrome, RAG1 and RAG2 deficiency, ...
© Noozi
Copyright © concept, text and image Esther Lekanne

'Look, my spinal cord'
For children with spina bifida


Spina bifida or 'open back' is a congenital defect of the spinal cord and can affect many bodily functions. Standing, walking or going to the bathroom is often more difficult or even impossible without help. Learning new things is sometimes a challenge. Do you want to know why spina bifida can have such a big impact? Then this book is definitely for you.

Available from 300 copies.

© 2019

48 pages.

Watch a short clip from 'Look, my spinal cord' in Dutch: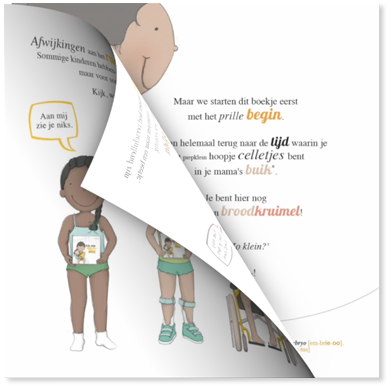 © Noozi
Copyright © concept, text and image Esther Lekanne

'Look, my lungs'
For children with a lung disease such as cystic fibrosis, pulmonary fibrosis, asthma, pneumonia, bronchitis, pulmonary hypertension ...


You use your lungs to breathe. The moment you are born, you use them for the first time. Your lungs get oxygen from the air and are among your most important organs. But the lungs are vulnerable and can be damaged. If your lungs no longer work as they should, they can cause you many problems. Are you also curious about what your lungs look like and what they are capable of?

© 2019

48 pages.
Watch a short clip from 'Look, my lungs' in Dutch: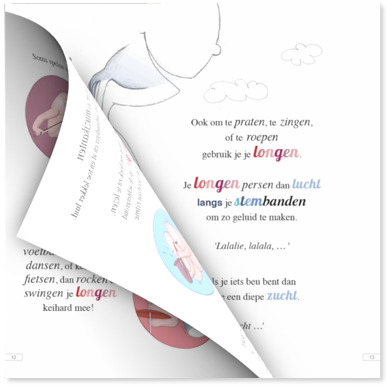 © Noozi
Copyright © concept, text and image Esther Lekanne

'Look, my joints'
For children with child rheumatism. Also called JIA.


If you have JIA or child rheumatism you suffer from inflammation in your joints. And just like strep throat, this can hurt a lot. Not fun! With strep throat your immune cells ensure that you become better again after a while. But if you have rheumatism, the inflammation won't go away spontaniously! Your immune cells start to fight with your own, healthy cells and you have to go to the children's hospital to get treatment! If your rheumatism is not treated properly, your body can suffer major damage and we do not want that, right?

© 2018

48 pages.
Watch a short clip from 'Look, my joints' in Dutch: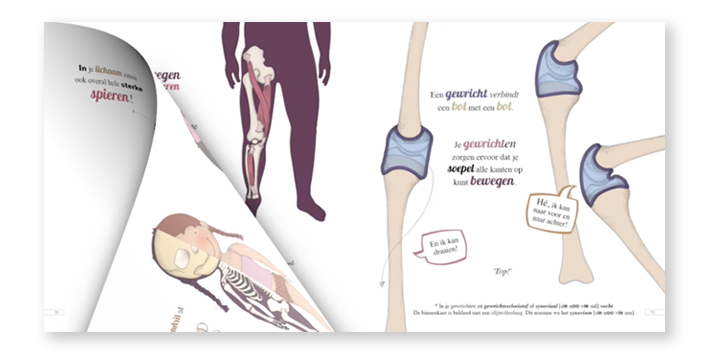 © Noozi
Copyright © concept, text and image Esther Lekanne

'These are my organs'
To prepare children for organ or tissue transplantation.


This book is about transplantations. It has nothing tot do with plants, but all with organs and tissues. You will discover what a transplantation means and which organs and tissues can be transplanted. And there are quite a lot of them. You will also see that your body is equipped with a large army of brave fighting cells. They fight against splinters, flu and other invaders but sometimes also against a new organ or new body tissues. "You're going down!" they shout!
Every transplantation is realy, realy exciting!

© 2018


48 pages. Some pages as an example: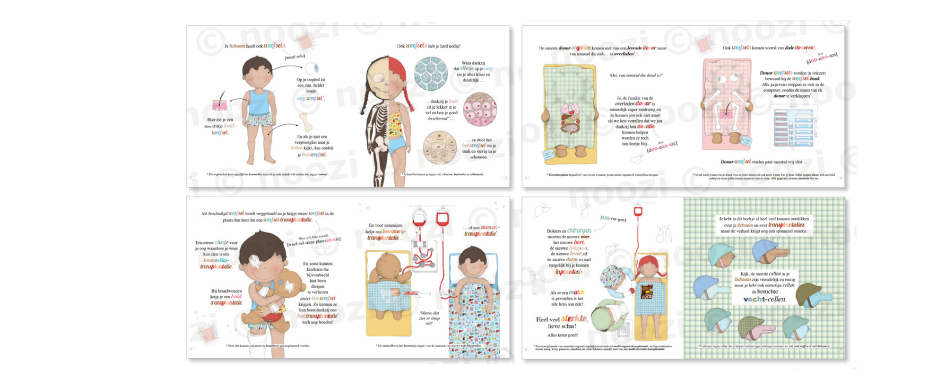 © Noozi
Copyright © concept, text and image Esther Lekanne

'These are my kidney's'
For children with kidney damage or impaired kidney function.


Drip, drip, spatter splash. Your kidneys really love water and they can do so many things! Do you want to discover how your kidneys ensure that body cells do not dry out, why they are filter champions, and who their best friends are? You read and see it all here. Your kidneys are mega-cool!

© 2017


48 pages. Some pages as an example: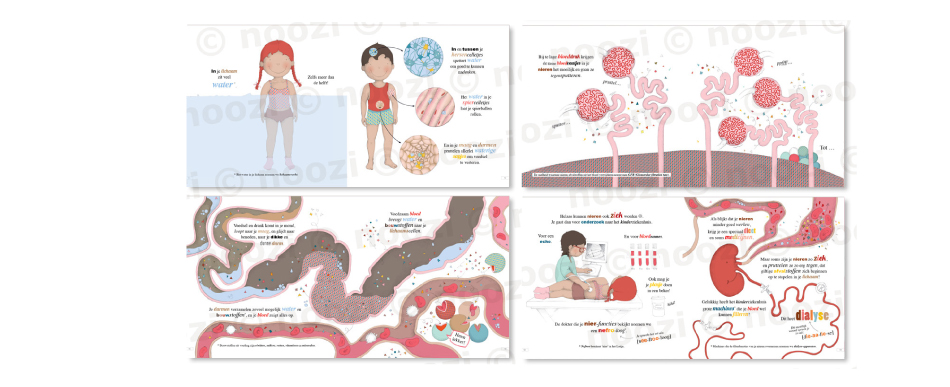 © Noozi
Copyright © concept, text and image Esther Lekanne

'This is my back'
For children with scoliosis or other spinal deformity.


A spine consists of 3 types of vertebrae, a sacrum and a tailbone. They fit perfectly in and on each other, just like Lego blocks. In this book the vertebrae are called Sally Strong, Peter Powerful and Tina Tough. They do not like to be crooked or twisted because then they will wobble and lose their balance. Also the messages that are sent through the spinal cord do no longer all arrive anymore. Oops!

© 2017


48 pages. Some pages as an example: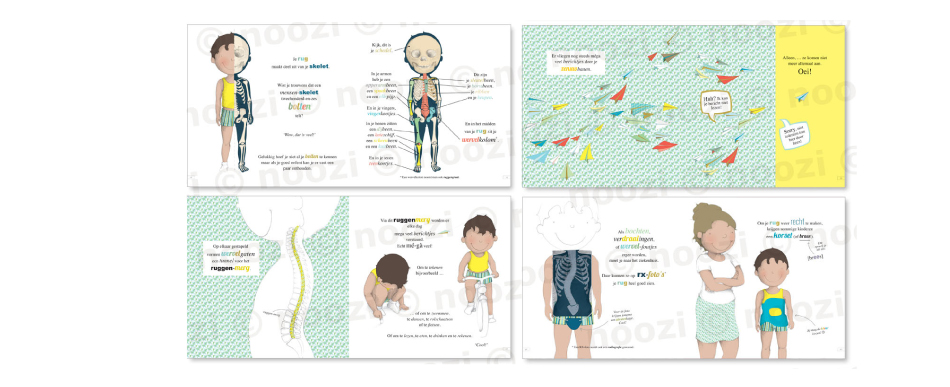 © Noozi
Copyright © concept, text and image Esther Lekanne

'This is how I breathe'
For children with asthma.


Your lungs get oxygen from the air. But in the air we breathe, we also find unhealthy substances such as fine dust, house dust, animal dander, pollen and dust that can make you sick. Fortunately, the cleaning teams in your body wash, scrub and mop everything shiny again. But if you have asthma, they sometimes overreact. Do you want to know what exactly happens in your body? Then this story is definitely for you.

© 2016


48 pages. Some pages as an example: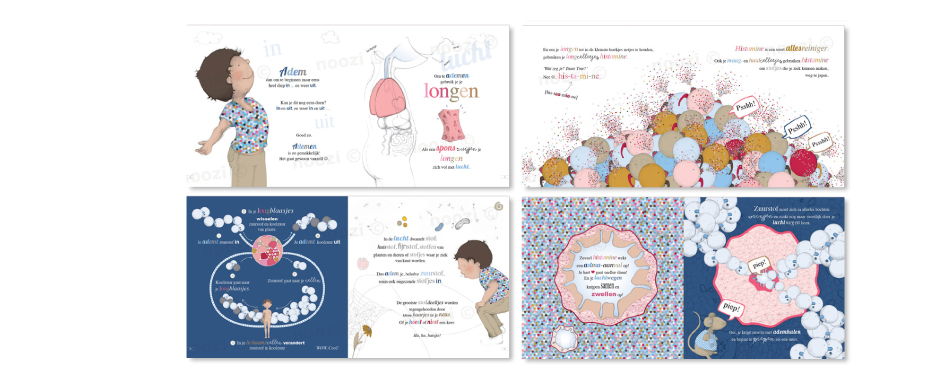 © Noozi
Copyright © concept, text and image Esther Lekanne

'Lots of sugars'
For children with type 1 diabetes.


Ine, Lucie, Lien, Niels and Sien, together the insulins, are the most important guests at the party in your stomach. If they do not show up, they can be injected with a magic pen and they can still save the hungry little ones.

© 2015


48 pages. Some pages as an example: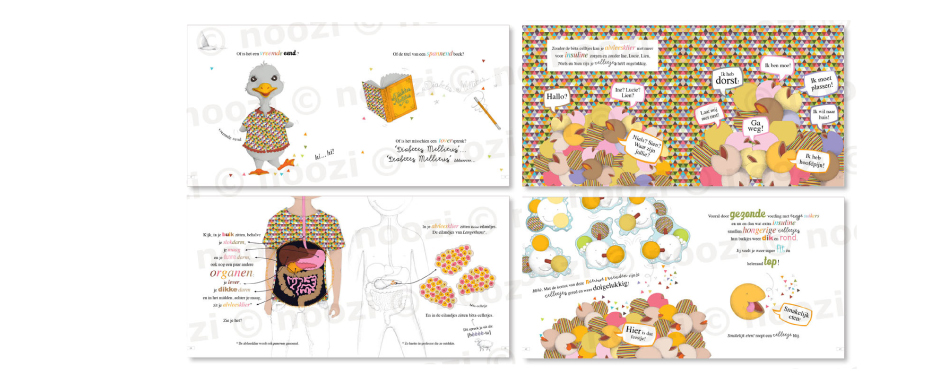 © Noozi
Copyright © concept, text and image Esther Lekanne

'This is my heart!'
For children with a congenital heart defect.

In this book you can see where your heart is located between the other organs. It explains how your heart beats, why it pumps and what kind of heart defects can occur. Also your blood circulation and oxygen uptake of the blood is described and illustrated in a very simple way.

Blood-curdling exciting and very cool!

© 2014


48 pages. Some pages as an example: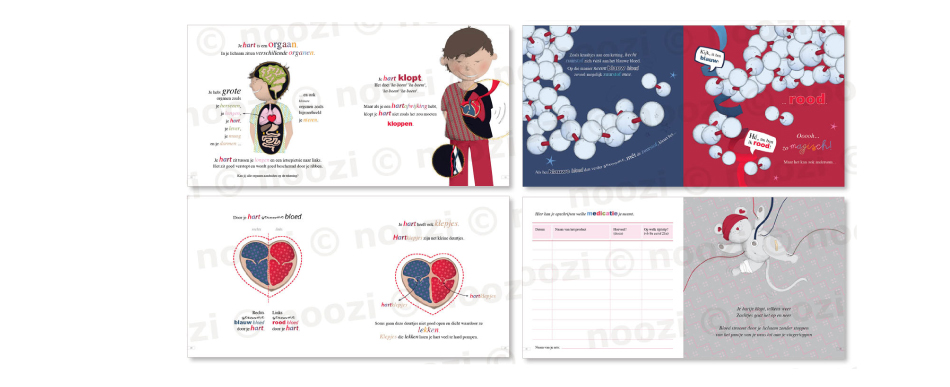 'Look, my head'
For children who want to know everything about epilepsy.

This book explains what happens in your head, what neurons are, how they can send and process information, and how they can sometimes cause a short circuit. Whether your epileptic seizures are dangerous or not? You will learn all about it.

The book can also prepare children for an EEG study and can help explain why taking medications is so important.

© 2014


44 pages. Some pages as an example:
'Look, I'm strong'
For children who are diagnosed with cancer.


This book explains that cancer has everything to do with cells. But what exactly is a cell? And what does a cell do? What is a tumor? And how can a cell turn into cancer? 'Look, I'm strong' is not only a big support for children when they got this bad diagnosis but also for parents. The story also focusses on the healing opportunities.

© 2013


48 pages. Some pages as an example:
'Look, I grow'
For children who need growth hormone therapy due to a lack of own growth hormone.


This book explains what hormones are, what they do in your body and how each night, before bedtime, you need a injection with a special magic pen. Because growth hormone can not be given as a pill. Together with growth hormone Max and cel Sarah, the injections become a fun evening ritual.

© 2011

36 pages. Some pages as an example:
In the press
Noozi in 15 min

September 2019 - Noozi explained in 15min on TVL.

March 2019 - the book 'Look, my joints' on national news.

^ back

| | |
| --- | --- |
| September 2018, in health magazine 'Objectief' from Neutraal Ziekenfonds-Vlaanderen. | March 2018, on local television with 'Look, my organs'. |

| | |
| --- | --- |
| March 2018, in Het Belang van Limburg with 'Look, my organs'. | July 2007, vacation with UZ Leuven |

October 2006, dream flight with Thomas Cook

Your project

I also like to work on assignment. In addition to children's books for the medical sector, you can also come to me for illustrations, information brochures, flyers, posters, didactic material, etc ... Do not hesitate to contact me if you have a question or a nice idea.

Contact & info: esther@noozi.be
+32 (0)478 771 885


You can follow me on instagram:



Last updated on 12/10/2019

© by Noozi
Copyright © concept, text and image Esther Lekanne

No part of this website or published books may be reproduced or published by means of print, photocopy, microfilm, mail, pdf or other means,
without prior written permission from the publisher: esther@noozi.be

Noozi medical children's books - Henegauwlaan 22, B3500 Hasselt, Belgium - BE 0833.372.233 - info@noozi.be - www.noozi.be
Corda Campus Hasselt - http://www.cordacampus.com/nl/bedrijven/noozi

Also see estherlekanne.be